Companies investing in and promoting solar energy products in the country are witnessing a surge in demand for mini-grids and equipment, as businesses in the country grapple with the high cost of diesel and erratic public power supply.
 As Africa's largest economy and major crude oil producer, Nigeria's inability to refine its petroleum products, even with the country's four refineries, had led businesses to seek alternative power sources following soaring cost of diesel globally due to rising global oil prices.
 Solar supply constraints could, however, hamper their ability to capitalise on the trend with some sources saying they have begun to turn away customers because they have largely been unable to meet rising huge demands.
 Nigeria, with a population of over 200 million people, reportedly have installed electricity capacity of 12,500 megawatts, but the national grid only provides 4,000 megawatts or even lower at its peak, leaving businesses and citizens to heavily rely on diesel, which has not been subsidised like petrol.
 Findings in Lagos and other parts of the country showed that diesel is currently sold at between N800 and N900 per litre, as investigation showed that most of the increase resulted due to the Russia- Ukraine war.
Read Also: D'banj makes acting debut in 'Symphony'
 Chief Commercial Officer of Daystar Power Limited, Victor Ezenwoko, told The Trumpet there has been increasing demand for solar energy products and inverters, saying: "I think it is really driven by the constant hike in the price of diesel this year."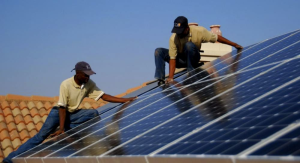 Also speaking on the development, Onareme Geoffrey, who supplies solar energy products and inverters in Warri, Asaba in Delta State, Benin City, Edo State and Port Harcourt in Rivers State, as well as their environs, confirmed the surge in solar energy products, adding that the situation could only be so, considering the epileptic power supply and diesel crisis in the country.
 Besides, the Energy Commission of Nigeria (ECN) affirmed that businesses and individuals spend $22 billion yearly to fuel generators in the country, as solar power adoption has been estimated at below two per cent, while some businesses perceive it as unsuitable for large-scale use.
 A study conducted earlier this year by Boston Consulting Group and All-On firm also revealed that Nigeria's installed photographic voltaic solar panel per capital amounted to one megawatt compared to an average of eight megawatts in other emerging markets like South Africa.
 Managing Director of Resource Energy, Prince Ojeabulu, lamented that the situation was getting worse in the country, as energy costs eat deep into companies' margins, forcing most businesses to actively consider solar as a cleaner and cheaper source of energy.
"In 2021, Resource installed under one megawatt of solar panels, but it is now constructing six-megawatt plants. By the end of the year, going by the trend so far, we should have 12 megawatts of solar installations operational across the country or even more," he said.
 An official of the Ministry of Power said there was an increase this year of approved solar mini-grids serving industrial users, but declined to give details.
 But global supply chain disruptions caused by the COVID-19 pandemic lockdown in China this year and the Russia-Ukraine war were altering and frustrating the hope for growth.
 Ezewonko and co-founder of Daystar, Jasper Graf von Hardenberg, said: "We could install 60 megawatts this year if we had the equipment. We have started turning down customers, we have become choosier with who we work with."