As the July 15 window for replacement of vice presidential candidates lapsed yesterday, the presidential candidate of the All Progressives Congress (APC), Asiwaju Bola Tinubu stood by his choice of Kashim Shettima as his running mate and said he refused to bow to any pressure to rescind his decision as a result of public outcry that greeted the choice.
The presidential candidate said he did not allow himself to be pressured or blackmailed into dropping Senator Kashim Shettima as his running mate.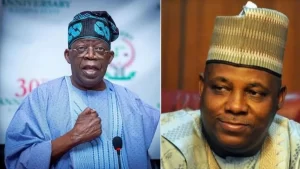 Earlier, the spokesman of the Bola Tinubu Campaign Organisation, Bayo Onanuga said that the former Lagos State governor is an astute politician who takes responsibility for decisions taken.
Read Also: Wike, PDP and 2023
"That is not possible. There is nothing like that going on in our camp. We have seen this move before, all these campaigns to pitch us against fellow Nigerians. It happened in 1993, and the result was clear. There was pressure from several quarters for (MKO) Abiola to drop (Babagana) Kingibe because of his Muslim background.
"I pray people will come back to their senses to discover that what they should be looking at is not religion but competence of the candidate to deliver and take the country to a greater height" he added.