Speaking at the presentation ceremony in Otor-Owhe town hall, General Manager, Government, Joint Venture and External Relations, Heritage Energy Operational Services Limited, Mr Adesola Adebawo stated that the training programme and presentation of starter packs is part of Corporate Social Responsibility projects supported by the company as part of the GMoU initiatives across OML 30 Host Communities in general and cluster 8 in particular.
Adebawo who was represented by Akpomujere Edesiri, Manager Community and Government Relations, said that the persons who benefited from the training programme were selected from Otor-Owhe, Edhomoko, Emevor, Akiewhe, Erawha and Iyede communities in Isoko North Local Government Area of Delta State
respectively.
He stated that a total of 1247 youths have been trained in various skills acquisition programmes in the last five years across OML 30. He gave a list of the items presented to the beneficiaries to include; generators (42), sewing machines and accessories kits (18) hair dryers (12), welding machines and accessories (5), grinding machines (5), HP laptops (7), barbing clippers (5), gas cookers (6), washing machine (1), amongst others.
Continuing, the General Manager admonished the beneficiaries not to sell the items but to make good use of them, pointing out that as trainees of relevant skills, they can feed themselves, their families and employment others.
Speaking earlier at the ceremony, the chairman of the Cluster Management Committee (CMC) Mr Wilfred Atunu said that the total value of the starter packs is about #24m, noting that the Heritage Energy Operational Services Limited and their Joint Venture Partners should be commended for their initiative.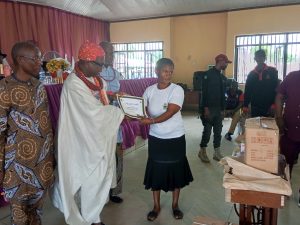 Read Also: Kickstart remedial work on Warri-Sapele Road, Onowakpo urges FG
He charged the beneficiaries to make good use of the starter packs for their benefits, why stressing that the beneficiaries should count themselves lucky to have been chosen among several others.
He also appealed to the company to consider youths of the cluster who are graduates for job opportunities.
The Joint Venture Partners including; Nigeria National Petroleum Corporation Exploration and Production Limited and Shoreline Natural Resources Limited in their goodwill messages during the ceremony lauded HEOSL for adequately funding the training and appealed to the various communities to create and sustain an enabling environment for the oil company to do their business without hindrance.
In the same vein, the representative of the National Upstream Regulatory Commission Mrs O. F Akpojisheri also commended HEOSL for the noble initiative and urge them not to relent in impacting meaningfully on host communities in their area of operation.
Responding on behalf of the beneficiaries Mrs Priscilla Okah who received catering starter packs, expressed gratitude to the company and urge them not to relent in carrying out programmes of this nature.
Dignitaries at the ceremony include; the Odion of Emevor HRH Dr John-Holt Ologho, Sir Simeon Efenudu former SSG/HoS to Delta State, Chief John Araka, Navy Captain Hermas Efenudu (rtd) and various Presidents General that make up the communities in cluster 8 amongst others.
Follow The Trumpet on all our social media platforms for more updates: