Senator Joel-Onowakpo Thomas, senator representing the good people of Delta South in the 10th National Assembly, has drawn the attention of the federal government to the failed portions of federal roads connecting Delta and Edo states.
Joel-Onowakpo, who made the call at the plenary on Wednesday, July 12, 2023, while seconding a motion moved by his distinguished colleague representing Edo North, Sen Adams Oshiomole, appealed to the federal government to direct all its relevant agencies to commence remedial work on Warri – Sapele road.
According to him, the federal government should understand that these roads connecting Delta state to Edo state down to Lokoja, the state capital of Kogi state, are of utmost importance, stressing that Delta South remains one of the districts that contributes substantially to the revenue generated in the nation.
"Mr President [Senate President Godswill Akpabio] I want to particularly thank you for recognising me and thank you to my distinguished colleagues.
Read Also: NGO congratulates Tinubu on his emergence as ECOWAS chairman
"My name is Joel-Onowakpo Thomas Ewomazino, representing the good people of Isoko, Izon, Itsekiri, and Urhobo, the hub producing the oil of this country, Delta South senatorial district.
"I rise to second the motion raised by Sen Oshiomole, and Mr President I would beg you to recognise my little contribution to it. I want to thank distinguished Sen Oshiomole because it is happening at the right time.
"That particular road we are talking about is also the gateway to the northern part of Nigeria, going through Delta, through Auchi down to Lokoja. So I think that it is something this house [Senate] has to look at dispassionately and urge the relevant agencies to take up remedial action on that road.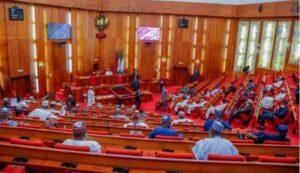 "I also want to say something regarding Edo state in general as it concerns Delta state also. Most of the roads connecting Delta state moving through Edo state are completely cut off, especially, the area between Delta and Edo states, Sapele road, Oghara – Warri is also cut off.
While the Delta South senator made the call, he appealed that the senate must discuss the Warri-Sapele-Oghara road down to Benin in the motion moved.
Follow The Trumpet on all our social media platforms for more updates: