This was necessitated following a vote of no confidence that was collectively passed on him by the members on Thursday, in Jalingo, the state capital.
In a letter jointly signed by the chairmen of the union from the entire sixteen local government councils of the state, the pensioners claimed that the vote of confidence has become necessary following his alleged negative attitudes towards the union and the members at large.
Stating that "the current vote of no confidence on the State Secretary was first based on the report of a committee set up by the State Council of the Nigerian Union of Pensioners, NUP, last year to dialogue with retired Permanent Secretaries.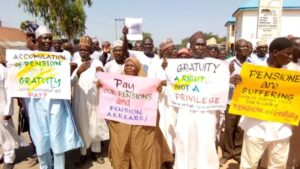 The State Secretary, according to the letter "is always reversing the hand of the clock backwards for pensioners by conducting all affairs of the Union in secrecy denying other officials of the Union from performing their statutory responsibilities."
The Secretary, who according to them, is in custody of all financial documents and records including cheques, had denied the State treasurer from performing his duties.
His alleged ill actions towards the union, they said, have brought all the activities of the union to a standstill.
Read Also: Environmental activists urge stakeholders to shun investments in Shell, other oil multinationals
"Members of the Union further noted that the secretary is running a one-man show regarding all members of the union in the State as slaves who do not even know anything about the Union,
Any issue not initiated by him will not see the light of the day thereby frustrating all the efforts of officials of the union in the state which will no longer be condoned." The letter reads
They also alleged that the postures of disrespect to constituted authorities, Senior officials of government and pension administrators in the State by the embattled secretary have made the payment of entitlements of pensioners cumbersome.
Lamenting that the secretary had overstayed his welcome, the need to as a matter of urgency relieve him of his position, they believed has become necessary.
They also beckoned at the National headquarters of the NUP not to make the mistake of extending the tenure of the NUP Caretaker Committee Constituted in Taraba State.
Efforts, at the time of filing this report to reach out to the embattled secretary failed as his mobile number was switched off.
Follow The Trumpet on all our social media platforms for more updates: