Convicted human rights lawyer, Inibehe Effiong is currently at the Court of Appeal, Calabar Division to challenge the decision of the state's high court for convicting him without fair trial.
The notice of appeal was filed on the 19th of August, 2022 with Inibehe Effiong as the Appellant and the Governor of Akwa Ibom State, Udom Emmanuel and Leo Ekpenyong as the Respondents.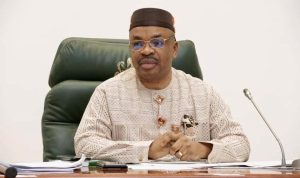 This was revealed by Court processes sighted by journalists during the weekend.
The notice of appeal contained 9 grounds of appeal and was filed by his legal team led by Femi Falana SAN, Adeyinka Olumide-Fusika SAN, John Aikpokpo-Martins Esq, Monday Ubani Esq, Olukunle Edun, Funmi Falana Esq, Femi Adeborisade Esq, Taiwo Olawanle, Nsisak Akai, Augustine Asuquo, E.E. Philip, and Joseph Eleh.
Read Also: NFWP tasks Taraba women on alternative wood energy source
In the Appeal, the Appellant said the lower court in its decision made by Chief Judge of Akwa Ibom State, Justice Ekaette Obot on the 27th of July, 2022 in SUIT. NO:HU/279/2019, erred.
The grounds of appeal range from an alleged violation of Section 36(3) of the Constitution by the Honourable Chief Justice by excluding a Premium Times journalist from covering the Court's proceedings, lack of fair hearing in convicting the Appellant for contempt, infringement of the Appellant's right to personal liberty, among others.
In his relief, the Appellant is praying the Court of Appeal for "An Order" setting aside the conviction and sentence imposed on the him by the Lower Court on July 27, 2022.
Click on The Trumpet and follow us on our Twitter page for more: