The Economic and Financial Crime Commission (EFCC) has declared that it knows the people and organisations behind the continued free fall of the naira against world's major currencies, especially the dollar, pounds and Euro.
 Chairman of the commission, Abdulrasheed Bawa, disclosed this during a meeting with Bureau De Change (BDCs) operators in the Federal Capital Territory (FCT) Abuja at the weekend.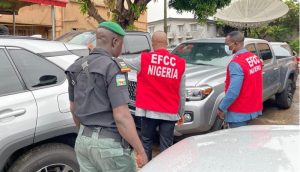 He indicted some members of the BDCs for their illegal activities, adding that the commission was against brazen foreign exchange speculations, especially at the parallel market.
 Bawa, who disclosed that the activities of foreign exchange speculators was harmful to the nation's monetary policy by causing a run on the value of the naira, revealed that the commission has information on specific people and groups, who were stockpiling foreign currencies, particularly dollars.
Read Also: Nigeria's equity market gains marginally by 0.28%
 He said significant effort against the speculators was underway, adding that the EFCC was watching some people and entities in Lagos, Port Harcourt, Enugu, Benin City, Abuja, Calabar and other cities across the country.
 Responding, the operators expressed confidence that the EFCC's action might eventually cause the naira to regain its pre-speculation value.
 Also, the agency pointed out that similar meetings with other BDCs dealers, regulators, players in the financial industry and other stakeholders would soon be held, adding that meeting and other activities of the commission were aimed at finding lasting solution to the foreign exchange challenges in the country.