The Economic Community of West Africa States (ECOWAS) has embarked on livestock value chain training for 35 farmers in Gombe State.
It is organised by the ECOWAS Support Programme for Livestock Marketing.  The capacity building workshop is funded by the Swiss Development Cooperation through ECOWAS and the Gombe State government.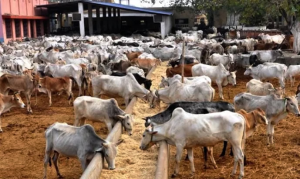 Speaking at the programme tagged: ECOWAS PACBAO 11, team lead of the programme, Dr Adetunji Jolaosho, said the project was initiated to propagate modern ways of livestock business from production to marketing.
Read Also: Baba Ijesha sentenced to 16 years imprisonment for assaulting minor
 Jolaosho also said the objective was to build the farmers' capacity to fully harness the livestock value chain, provide jobs for women and youths, as well as improve their incomes and livelihoods.
 This, he said, would be done by educating the beneficiaries on how to upgrade their feedlots, crossbreeding and meat value chains, adding: "It is to upgrade the way livestock industry is operated to minimise losses for farmers. The programme's estimated meat supply to the market is between 200kg and 250kg," he said.