Young girls in secondary schools and females in general in the academic environment have been challenged to remain focused and ensure that they build and maintain a purposeful future that will allow them stand out as leaders of tomorrow.
The admonition was given at the 42nd Anniversary celebration of the CMS Girl's Grammar School Akoka, Bariga, Lagos, with the theme: 'Strengthening The Bond: Past, Present And Future'.
The event, which held on Saturday, May 21, 2022, brought together all past graduate students of the school from 1985 to 2020, and equally served as a platform to reunite the former students with their old principals and teachers; both serving and retired.
Speaking at the event, the National President, CMS Girl's Grammar School Akoka Alumnae Association, Mrs. Adeola Adetugbobo, explained that education is the passport to the future and every necessary arrangement must be made to get prepared for the tasks ahead.
Adetugbobo said that a condusive learning atmosphere is one of the key ingredients to improving quality education and such provision is sacrosanct within the academic environment.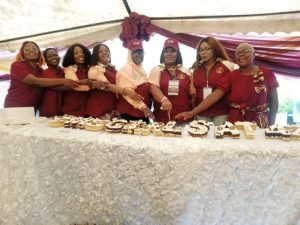 "Because we know benefits of providing a good atmosphere of learning and to augment the existing infra- structure of the school, today, as part of our mission, we will be donating 100 chairs and desks for the classrooms, as part of our gift to our beloved Alma Mater.
Read Also: EFCC releases former speaker, Etteh over alleged N130m fraud
"To the young, charming, brilliant, focused girls and ladies out there, I urge you to devote all your time and energy to your studies, to sustain the academic excellence for which CMS Girls is known.
Remember to always keep your face towards the sunshine, and with time, shadows will face behind you.
"You must always be of good character, both at school and at home, even as you up- hold the legendary high moral values of our school, as good ambassadors. Remember, you are the future of this school, and will in the course of time, take the baton of leadership.
Therefore, follow your dream and pursue your vision with purpose and tenacity. A positive mindset brings positive things." she said.
Click on The Trumpet and follow us on our Twitter page for more: